I am privileged to hold the post of Head of Kindergarten here at Phoenix School and join my fellow
teachers who endeavor to make sure that there are opportunities for all our children to shine.
At Phoenix School, there will be many opportunities for children to make the best possible
progress in their learning by building new skills each year and taking part in many special events
that enrich our exciting curriculum.
Phoenix Kindergarten has a philosophy to provide high quality, developmentally appropriate
childcare for children with a focus on the individual child's age.
Lastly, I would like to say, that although many things in the educational landscape change, some
things don't need to change. Our focus is to stimulate social, cognitive, physical and emotional
growth.
Phoenix School is a busy, vibrant school with the focus being that our students enjoy learning. We
really do want all of our children to 'Enjoy, Believe, Achieve'… enjoy learning, believe anything is
possible and achieve the very best they can!
Kind Regards
Craig Hobday
Craig Hobday
Head of Kindergarten / Homeroom Teacher KG 2/1
My philosophy of education is that all children are unique and must have a stimulating educational environment where they can grow physically, mentally, emotionally, and socially. I provide a safe environment where students are invited to share their ideas and take risks. I believe that a teacher is morally obligated to enter the classroom with only the highest of expectations for each and every student.
Sara Meloni
Homeroom Teacher KG1/1
My teaching philosophy is based on learning through creative play. I like to build an environment that promotes free expression so that students can develop their full potential. My classes are always dynamic, colourful, vibrant and the children are encouraged through positive reinforcement. I aim to guide them through their personal growth with the firehouse of friendship, caring, and respect. I believe that learning good social skills helps them to become fair human beings able to contribute confidently to our society. Being a teacher is not just a job, it is a mission.
Caitlin Vick
Homeroom Teacher KG 1/2
My heart is to be an encourager of each child making sure that each of their voices is heard, and that each child is seen and known. I believe that in addition to helping them learn and grow intellectually, I am also to be present and engaged with them emotionally. My vision is to create a safe place to learn together in an environment of grace and compassion for each student and their differences. I Incorporate a variety of different learning styles to engage all the students and also include free play within structured boundaries to keep them having fun.
Sarah Waddicor
Homeroom Teacher KG2/2
Education is not just learning to read and write. It is learning how to use these skills for personal knowledge and growth. I am a strong believer that all students are unique and have great potential. It is essential to create an exciting, challenging and stimulating environment to allow students to grow and learn according to their own individual needs. My aim is to create a learning environment in which students can think for themselves and feel confident in doing so. I do this by reinforcement learning and motivating the students to always strive to be the best that they can be. As an educator, my role is not only to teach, but to listen to student questions and stories. This allows me to discover what motivates them to learn, and enables me to provide them with opportunities to explore these interests further through a variety of teaching methods.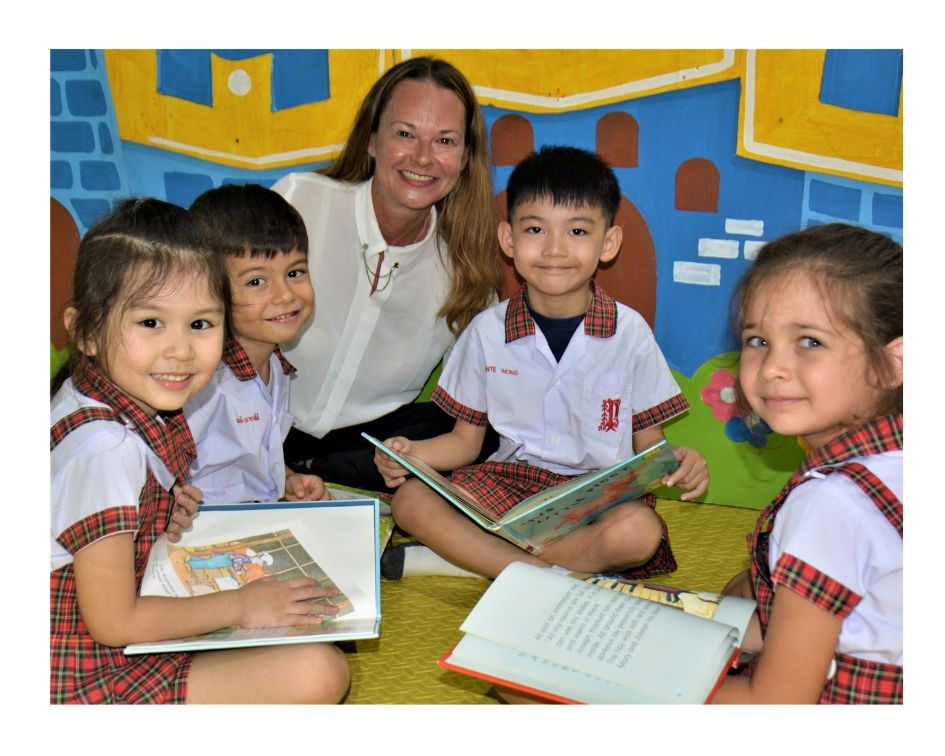 Beth Leigh Davies
Homeroom Teacher KG 3/1
My Teaching Philosophy is to embrace the holistic development of each individual child. It is my desire to create the kind of atmosphere where students are able to reach their full potential and develop their creativity and natural talents whilst creating positive, respectful relationships with others. I aim to provide a safe environment where students are invited to express themselves, take risks and above all have fun whilst learning.