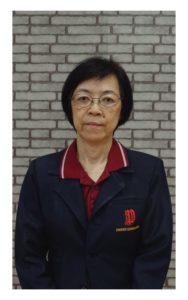 Ms.Wong
Head of Chinese Department
It is a great honour to be the head of the Chinese department. My educational philosophy is to encourage students to speak Chinese in their social community and daily life as Chinese has become a very important language in the 20 th century. In my Chinese classes, I teach Chinese words and sentence structures and encourage students to use Chinese to communicate with their peers. You will always find me speaking Chinese to my students in order to improve their listening and speaking skills. I encourage my students to use the basics I have taught them to practice speaking Chinese every day. I also like to add traditional Chinese culture into my lessons. Chinese parents are welcome to bring their children to study at Phoenix School. It would be my honour to guide your students to become lifelong learners. I would also like to encourage Chinese parents to familiarize themselves with Thai culture so that they can show respect towards Thai culture in the social community.
Liu Fangjun
Chinese Teacher
Teaching children from different parts of the world the Chinese language is very interesting and rewarding to me. Learning Chinese can be challenging for students from different cultures. I firmly believe that giving my best to all my students, and through hard work and dedication, anything is possible. I believe that all children are unique and I create a stimulating educational environment where they can grow physically and socially. One of my teaching strategies is to create a classroom atmosphere where students can meet their full potential. I also provide a safe learning environment where students are invited to share ideas while learning Chinese.
Ms Zhang Anling
Chinese Teacher
My Teaching Philosophy is to create a happy learning environment for my students. "Interest is the best teacher", I strive to create lesson plans that are interesting to keep the students focused. Students from different countries have different cultures and understanding of certain aspects, that is why I incorporate Chines culture into my lessons so that all the students could have the same understanding. The main focus of my lessons is for students to learn to read and write Chinese. In Chinese learning, pinyin is one of the most important aspects. No matter which grades the student is, I let students read pinyin before the class so that they can read Chinese word correctly and fluently. In my class, students also need to practice writing Chinese words in the correct order of the basic strokes. As a Chinese teacher, I want them to write and read both correctly in Chinese and know more about Chinese cultures, such as Chinese poems, Chinese songs, Chinese festivals and so on.